My Domestic Violence Monitoring Mission to Montenegro
September 12, 2017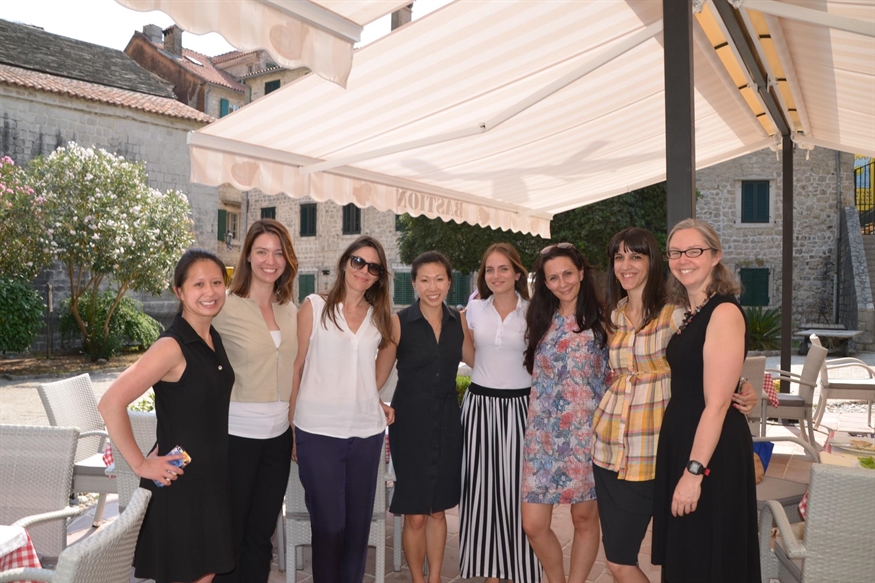 "Domestic violence is a "style of communication between the parties." It is the "victim's choice...to be communicated to her with violence."
My jaw dropped.
I then quickly pulled myself together from a momentary state of shock as I listened to a mediator in Montenegro matter-of-factly explain his thoughts on domestic violence. By this point in our mission, I kept thinking that I would get used to the way our interviewees spoke about domestic violence. After all, we had spent an intense week in six cities throughout the country - from the Albanian border to the Serbian border - interviewing members of Parliament, judges, prosecutors, police, social workers, doctors, and even the victims themselves. But in each interview, like in this one with the mediator, I always learned something new.
As a white collar and securities litigator at Dechert LLP, an international law firm, I joined the monitoring mission with The Advocates for Human Rights to Montenegro, having never done any domestic violence work, let alone traveled to the Balkans. But I simply couldn't pass up the opportunity when our firm committed its resources to pursue the monitoring mission in Montenegro in 2015, a country that was a part of the former Yugoslavia and gained its independence in 2006.
Having the honor of learning from Rosalyn Park and Amy Bergquist, two impressive Advocates attorneys at the forefront of the human rights movement, we paired up in teams and started each day early in the morning traveling to a new city so that we could begin interviewing around 9 a.m. Our days were packed with organized interviews that very rapidly revealed that domestic violence was not only a widespread problem in Montenegro – it was also a very private one. I was struck how I took for granted our comparably victim-centered laws, practices, and education, as I heard story after story about how keeping the family together – as opposed to keeping the victims safe – came first. I witnessed the defense and excusal of offenders as interviewees pushed back about depriving offenders their rights: "where will the offender go if evicted?" was a reoccurring theme. In interview after interview, I heard about the lack of coherent coordination and adequate resources. And for the first time, as an associate, I viscerally understood why the rule of law and even how our physical courtroom is set up is so important – something I take for granted every day here in the U.S.
What impressed me the most about Montenegro wasn't just the rugged mountains that explained why the country is called "Black Mountain," nor was it the coastline that looked like it was straight out of movie. What impressed me the most was undoubtedly the resiliency and strength of the victims of domestic violence. I had the opportunity to interview one such victim who showed me photographs of bruises all over her body that were submitted to the court. She so bravely explained how she came up against road block after road block with every institutional response and is currently mired in multiple court proceedings to tell her side of the story. I saw victims weaving beautiful rugs at a women's shelter as they heroically learned a new skill to have some form of economic independence. And as we stayed in that same shelter one night, I was moved by the incredibly strong women that are fighting every day with limited resources to help these victims. Our partners Natasa Medjedovic at SOS Hotline for Women and Children Victims of Violence – Niksic and Maya Raicevic at Women's Rights Center were examples of such strength, who challenged the seemingly accepted notion that "just being a patriarchal society" is an adequate response to the problems these victims face.
This trip, however, could not have been made possible for me without the support from my firm to which I am very grateful, and I would encourage other firms to continue their support as well. What I took away from the pro bono experience was how just taking the time and honing your own fact finding and deposition skills can impact the laws and practices of an entire country in a tangible way. It's hard not to fall in love with a profession when you get to practice and develop your skills, let alone in a context where you're seeing prosecutors, police, and doctors begin to consider using particular laws or protocols while being interviewed; or members of Parliament, judges, and even the victims ask for advice or more training to make their country better.
After two years of work, the 200+ page report based on our mission is now finished. It shines a light on the laws and practices in Montenegro, which will be helpful in advocacy in the country and at the United Nations. I also hope that one day domestic violence will never be known as a chosen style of communication in Montenegro.
By Angela Liu, Dechert LLP