Minnesota Updates Sexual Assault Laws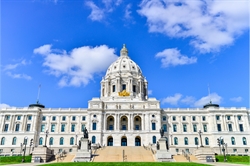 Date:
July 20, 2021
Country:
United States of America
Type:
Action
Issues:
Women's Rights
Minnesota's Public Safety Omnibus Bill, signed by Governor Walz on June 30, 2021, included important updates to Minnesota's criminal sexual conduct statutes. Amongst the changes, which take effect September 15, 2021, the law:

Closes the "voluntary intoxication" loophole that prevented prosecution of sexual assault crimes against people when the victim was "mentally incapacitated" due to voluntary intoxication.

Creates a new offense of sexual extortion to punish an actor who uses the threat of harm-other than physical harm-to extort unwanted sexual contact with a victim. The offense targets the use of extortion or blackmail to compel a victim into unwanted sexual contact, including threats to the victim's housing or employment, to share private sexual images, or to report the victim to immigration authorities.
Read more about why the legislation was needed.

Take a moment to thank legislators who supported HF707 and SF1683 and their inclusion in the Public Safety Omnibus.
Find your Minnesota representatives here:LCC-GIS (leg.mn)

House Bill (HF707) Chief Author:
Rep. Kelly Moller (DFL) District: 42A

651-296-0141

E-mail: rep.kelly.moller@house.mn

Co-authors:

Rep. Marion O'Neill (R) District: 29B

651-296-5063

E-mail: rep.marion.oneill@house.mn

Rep. Jessica Hanson (DFL) District: 56A

651-296-4212

E-mail: rep.jessica.hanson@house.mn

Rep. Zack Stephenson (DFL) District: 36A
651-296-5513

E-mail: rep.zack.stephenson@house.mn

Rep. Kristin Bahner (DFL) District: 34B

651-296-5502

E-mail: rep.kristin.bahner@house.mn

Rep. Ami Wazlawik (DFL) District: 38B
651-296-3018

E-mail: rep.ami.wazlawik@house.mn

Rep. Tim Miller (R) District: 17A
651-296-4228

E-mail: rep.tim.miller@house.mn

Rep. Dave Pinto (DFL) District: 64B
651-296-4199

E-mail: rep.dave.pinto@house.mn

Rep. Sydney Jordan (DFL) District: 60A

651-296-4219

E-mail: rep.sydney.jordan@house.mn

Rep. Liz Olson (DFL) District: 07B

Deputy Majority Leader and Speaker Pro Tempore
651-296-4246

E-mail: rep.liz.olson@house.mn

Rep. Athena Hollins (DFL) District: 66B
651-296-4224

E-mail: rep.athena.hollins@house.mn

Rep. Cheryl Youakim (DFL) District: 46B

651-296-9889

E-mail: rep.cheryl.youakim@house.mn


Rep. Ruth Richardson (DFL) District: 52B
651-296-4192

E-mail: rep.ruth.richardson@house.mn


Rep. Michelle (Shelly) Christensen (DFL) District: 39B

651-296-4244

E-mail: rep.shelly.christensen@house.mn


Rep. Kaela Berg (DFL) District: 56B

651-296-5387

E-mail: rep.kaela.berg@house.mn


Rep. Robert Bierman (DFL) District: 57A
651-296-5506

E-mail: rep.robert.bierman@house.mn


Rep. Kaohly Vang Her (DFL) District: 64A
Majority Whip

651-296-8799

E-mail: rep.kaohly.her@house.mn


Rep. John Huot (DFL) District: 57B
651-296-4306

E-mail: rep.john.huot@house.mn


Rep. Connie Bernardy (DFL) District: 41A
651-296-5510

E-mail: rep.connie.bernardy@house.mn


Rep. Carlie Kotyza-Witthuhn (DFL) District: 48B
651-296-7449

E-mail: rep.carlie.kotyza-witthuhn@house.mn


Rep. Jamie Becker-Finn (DFL) District: 42B
651-296-7153

E-mail: rep.jamie.becker-finn@house.mn


Rep. Jim Davnie (DFL) District: 63A
651-296-0173

E-mail: rep.jim.davnie@house.mn


Rep. Kelly Morrison (DFL) District: 33B
Assistant Majority Leader

651-296-4315

E-mail: rep.kelly.morrison@house.mn


Rep. Erin Koegel (DFL) District: 37A

651-296-5369

E-mail: rep.erin.koegel@house.mn


Rep. Patty Acomb (DFL) District: 44B
651-296-9934

E-mail: rep.patty.acomb@house.mn


Rep. Hodan Hassan (DFL) District: 62A
651-296-0294

E-mail: rep.hodan.hassan@house.mn


Rep. Rob Ecklund (DFL) District: 03A

651-296-2190

E-mail: rep.rob.ecklund@house.mn


Rep. Tina Liebling (DFL) District: 26A
651-296-0573

Toll Free: 800-339-9038
E-mail: rep.tina.liebling@house.mn


Rep. Liz Reyer (DFL) District: 51B

651-296-4128

E-mail: rep.liz.reyer@house.mn


Rep. Donald Raleigh (R) District: 38A
651-296-2907

E-mail: rep.donald.raleigh@house.mn


Rep. Paul Novotny (R) District: 30A

Assistant Minority Leader

651-296-4237

E-mail: rep.paul.novotny@house.mn


Rep. Dean Urdahl (R) District: 18A

651-296-4344

Toll Free: 800-920-5861
E-mail: rep.dean.urdahl@house.mn


Rep. Greg Davids (R) District: 28B

651-296-9278

Toll Free: 800-551-9145
E-mail: rep.greg.davids@house.mn


Rep. John Poston (R) District: 09A
651-296-4293

E-mail: rep.john.poston@house.mn


Rep. Mary Franson (R) District: 08B
651-296-3201

Toll Free: 800-709-0796
E-mail: rep.mary.franson@house.mn


Senate Companion (SF1683) Chief Author:
Sen. David Senjem (R) District 25

651-296-3903

E-mail: sen.david.senjem@senate.mn
Co-authors:

Sen. Erin Murphy (DFL) District 64

651-296-5931

E-mail: sen.erin.murphy@senate.mn
Sen. Lindsey Port (DFL) District 56

651-296-5975

E-mail: sen.lindsey.port@senate.mn;
Sen. Julia E. Coleman (R) District 47
651-296-4837

E-mail: sen.julia.coleman@senate.mn
Sen. Karla Bigham (DFL) District 54

651-297-8060

E-mail: sen.karla.bigham@senate.mn
Public Safety Omnibus Bill leadership:

Rep. Carlos Mariani (DFL) District 65B

651-296-9714

E-mail: rep.carlos.mariani@house.mn
Sen. Warren Limmer (R) District 34

651-296-2159