Afghan Refugee Protection Priorities Must Include Women's Rights Defenders
August 24, 2021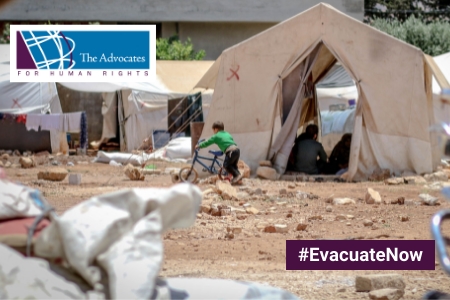 At the most recent UN Human Rights Council session in July 2021, just weeks before the Taliban takeover, a woman NGO representative from Afghanistan expressed concern about the U.S. and other military withdrawal from Afghanistan, as well as negotiations with the Taliban. As most organizations promoting women's rights in Afghanistan receive foreign funding, she warned that withdrawal would create "uncertainty about the future and a reduction of resources available" for women's rights organizations. She also pointed out that women and girls were once at the forefront of efforts to promote peace and stability, yet just four women sat at the table during peace talks. Her words demonstrated the need to listen to and fully include women in efforts to promote human rights and the rule of law. Her words foreshadowed the events unfolding today in Afghanistan and the devastating impact they would have on women.

Women activists face myriad challenges based on their gender, including exclusion from the human rights arena, under-recognition for their achievements, and inadequate funding. In recent years, women human rights defenders around the globe have faced increased harassment, violence, and threats for carrying out their work. For instance, several women activist partners of The Advocates have had to flee their country due to threats to their lives and the lives of their loved ones.

Since 2020, Afghan women journalists and activists have been targeted and killed more and more frequently. Now, as the Taliban take over in Afghanistan, women human rights defenders - and women and girls in general - are at even greater risk. Some have already begun receiving death threats and fear leaving their homes. Others have not gone to work or school for fear of violence. Many girls' schools have been closed. Yet despite the clear danger, women are falling through the cracks during a crisis that calls for the international community, and especially the United States, to ensure protections.

As scenes of airports overflowing with people desperate not to be left behind have unfolded, much attention has been paid to protecting those who worked with U.S. and NATO forces. The Special Immigrant Visa program, launched in 2009 to safely relocate those people to the United States, has fallen woefully short of its promise. According to the International Rescue Committee, more than "300,000 Afghan civilians have been affiliated with the US mission, yet only 16,000 Afghan SIVs have been issued since 2014." Announcement of plans to expand refugee eligibility for Afghans who are at risk due to affiliation with the United States but who fall outside the narrow parameters of the SIV program is welcome.

But far fewer women likely will be included in either program than have stood at the United States' side. Afghan women's participation in the formal labor force was below 22% in 2019. Comparatively few Afghan women worked directly with U.S. forces, the combined result of limited opportunities to gain the skills needed and far greater cultural barriers to working with the United States government.

As the Special Inspector General for Afghanistan's Reconstruction noted in its February 2021 report, "rhetoric suggesting that the Taliban's oppression of women was one justification for U.S. military action against the Taliban." Yet, absent is any provision for those women and girls who, emboldened by promises that the Taliban would be kept at bay, stood up for their rights to education, employment, expression, and movement.

International treaty and U.S. law recognize as "refugees" people who have a well-founded fear of persecution on the basis of race, religion, nationality, political opinion or membership in a particular social group. The UN Refugee Agency has provided clear guidance that gender-based claims fall within the refugee definition. In the United States, however, gender-based claims have met particularly serious and persistent resistance. Even where women human rights defenders present claims based on their political activism, they meet resistance due to gendered ideas and biases about what (and who) political activism looks like.

The situation in Afghanistan demands immediate and concerted effort to ensure vulnerable Afghans are protected from harm. But the focus on the need to do right by those who worked with the troops must not abandon Afghan women and girls to their fates.
By Elizabeth Lacy and Lindsey Greising