Theresa Dykoschak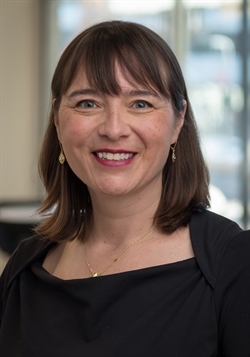 Programs:
Advocacy
Theresa Dykoschak is Pro Bono Counsel for The Advocates for Human Rights. She promotes volunteer engagement and increases our capacity to leverage contributions from hundreds of volunteers on an annual basis. She is also a member of The Advocates' Human Trafficking team and co-authored protocol guidelines on labor trafficking.
Prior to Pro Bono Counsel, Theresa was a Staff Attorney in the Women's Human Rights Program, specializing in the international and regional legal frameworks on violence against women. She reported on and advocated to UN human rights mechanisms on violence against women issues from around the world; co-authored reports on violence against women; conducted fact-finding missions in Serbia, Croatia, Bulgaria, and the Netherlands; and developed curricula and trained professionals in Eastern Europe on best practices and responses to domestic violence.
Prior to joining The Advocates for Human Rights, Theresa was an attorney at Faegre Baker Daniels LLP in Minneapolis. She was a long-time volunteer with The Advocates on several projects, including leading a country team in Faegre's partnership with The Advocates' Africa Advocacy Project. She also volunteered for the Liberian Truth and Reconciliation Commission Project, and in 2007, she conducted fact-finding interviews for The Advocates at Buduburam Camp in Ghana.
Theresa received her law degree cum laude from the University of Wisconsin Law School and received her B.S. in Languages from Georgetown University. She speaks Spanish and is admitted to practice law in Minnesota and Wisconsin.