Return to summary
Documenting the Implementation of Domestic Violence Laws: A Human Rights Monitoring Methodology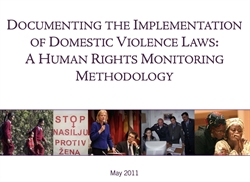 Date:
May 2, 2011
Document:
Documenting the Implementation of Domestic Violence Laws (PDF 394.4 KB)
Country:
United States of America
Type:
Manual
Issues:
Gender-Based Violence
,
Technical Assistance, Capacity Building, Training
,
Women's Rights
Domestic violence is a violation of fundamental human rights. One of the most important steps in effectively addressing violence against women is to assess government compliance with international standards relating to this human rights abuse. The implementation of laws pertaining to domestic violence is an important focus when making such an assessment. This methodology provides guidance on monitoring the implementation of domestic violence laws through human rights fact-finding and reporting. This methodology includes six components: planning a monitoring project; international legal protections against domestic violence; background research on the legal system; interviews on the implementation of domestic violence laws; writing the report; and the advocacy process. This methodology envisions a final human rights report that includes findings from the background research and interviews as well as recommendations for improvements. The primary guiding principle for the assessment should be whether the implementation of domestic violence laws promotes victim safety and offender accountability, according to international human rights standards.