Addressing the demand side of sex trafficking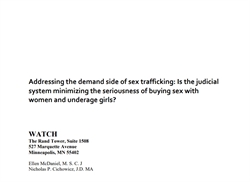 Date:
April 2, 2018
Document:
WATCH-Report-Addressing-the-demand-side-of-sex-trafficking.pdf (PDF 1.3 MB)
Country:
United States of America
Type:
Report
Issues:
Court Monitoring
,
Human Trafficking
,
Women's Rights
WATCH launched its Sex Trafficking Initiative in January 2014. This report focuses specifically on buyers of sex in Hennepin and Ramsey County. The key findings in this report are derived from information collected from 136 cases involving Minnesota Statute 609.324. These 136 cases involve both underage and adult victims of sex trafficking. The data were collected from January 1, 2014 through September 30, 2017.
In this report the key findings and recommendations apply to cases of purchasing sex with underage girls.