Namibia - Committee Against Torture - LGBTIQ+ Rights - October 2016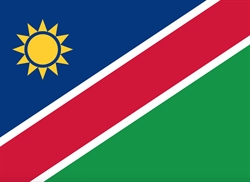 Date:
October 4, 2016
Document:
Namibia - Committee Against Torture - LGBTIQ+ Rights - October 2016 (PDF 374.3 KB)
Country:
Namibia
Type:
Intl Mechanism Submission
Issues:
Bias and Discrimination
,
Detention
,
International Advocacy
,
LGBTIQ+ Rights
,
Policing
,
Torture
Mechanism:
UN Committee against Torture
The Advocates for Human Rights, along with the Legal Assistance Center, MPower Community Trust, Namibian Gays and Lesbian Movement, TULINAM, and Wings to Transcend Namibia, submitted information to the Committee against Torture for the Committee's review of Namibia during the 59th session in November 2016. The report addresses the rights of LGBTI individuals in Namibia under the Convention against Torture.
Namibia confirmed during its second periodic report to the Committee that the Convention against Torture is part of Namibian domestic law and thus directly enforceable. The state's obligations under the Convention include the protection of minorities and other marginalized groups especially vulnerable to torture, including LGBTI individuals. Despite this, Namibia has failed to adequately protect LGBTI persons from ill-treatment, discrimination, and violence--even at the hands of the police and other state actors. Consensual sexual acts between men are still criminalized, and sexual orientation remains an unprotected class under the Namibian Constitution. LGBTI individuals in Namibia report high rates of discrimination and violence from police and other state officials. Officials also fail to properly prevent, investigate, and prosecute crimes committed against LGBTI individuals.
Egregious violations of the Convention also happen in the Namibian detention system where already poor conditions are compounded for LGBTI individuals. Transgender women are often placed in male holding cells, putting them at high risk for sexual assault and other violence. In addition, the state regularly fails to provide appropriate meals for prisoners with HIV or AIDS and refuses to provide condoms to prisoners despite the high incidence of HIV and AIDS in Namibia.
The report makes several recommendations to address the treatment of LGTBI individuals in Namibia. These recommendations include abolishing sodomy as a crime and ensuring LGBTI individuals are protected against discrimination and hate speech under the law. The government of Namibia must also take action to sensitize the police and other officials on LGBTI issues and ensure that crimes against LGBTI individuals are properly investigated and prosecuted. The report also recommends improving prison conditions, including having medical staff on hand to monitor medicine and food quality for persons with HIV and AIDS, as well as taking steps to protect transgender women.