Return to summary
Sex Trafficking and Safe Harbors: Tips for Working with Survivors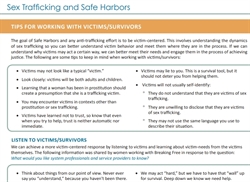 Date:
May 27, 2015
Document:
Sex Trafficking and Safe Harbors: Tips for Working with Survivors (PDF 147.2 KB)
Country:
United States of America
Type:
Tool or Factsheet
Issues:
Human Trafficking
,
Women's Rights
,
Workers' Rights
The goal of Safe Harbors and any anti-trafficking effort is to be victim-centered. This involves understanding the dynamics of sex trafficking so you can better understand victim behavior and meet them where they are in the process. If we can understand why victims may act a certain way, we can better meet their needs and engage them in the process of achieving justice. This resources shares tips to keep in mind when working with victims/survivors.