Return to summary
Witness to Immigration Court: Stakeholder Report from the Immigration Court Observation Project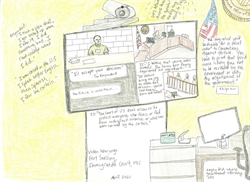 Date:
October 5, 2021
Document:
Witness to Immigration Court - Stakeholder Report 9.1.20-3.31.21 (PDF 2.3 MB)
Country:
United States of America
Type:
Report
Issues:
Court Monitoring
,
Detention
,
Due Process and Fair Trial
,
Migrant Rights
Court observers complete a two-page observation form for each observed hearing. Observers record demographic information such as gender, country of origin, and primary language; and objective information such as the presiding judge, counsel for the Department of Homeland Security (DHS), whether the person was represented, type of relief (defenses to deportation) being sought, bond requests and decisions, and criminal history. Observers also report subjective impressions about the person's ability to understand and participate in the hearings, the treatment of the detained person, and the fairness of the process and outcome of the hearing. All collected observations are entered by volunteers into a database. Approximately every six months, the data are analyzed, and a stakeholder report is written. This report covers observed hearings at the Fort Snelling Immigration Court, in Minnesota, between September 1, 2020, and March 31, 2021.
FINDINGS This reporting period falls entirely within the COVID-19 pandemic. Throughout this period, non-detained hearings were suspended. All detained people appeared remotely from the jails or prisons in which they were held, typically by video, sometimes by phone. The last two months of this reporting period were under President Biden's new administration.