Return to summary
Gender-Based Asylum Claims in the Wake of Matter of A-B- A Supplement for Practice in the Eighth Circuit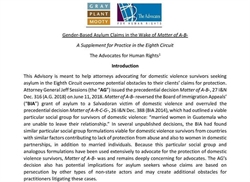 Date:
October 1, 2019
Document:
Gender-Based Asylum Claims in the Wake of Matter of A-B- (PDF 748.1 KB)
Country:
United States of America
Type:
Manual
Issues:
Asylum
,
Gender-Based Violence
,
Legal Representation
,
Migrant Rights
,
Women's Rights
A Practice Advisory for attorneys advocating for domestic violence survivors seeking asylum in the Eighth Circuit. It is meant to help practitioners overcome obstacles to their clients' claims for protection that are presented in the precedential decision Matter of A-B- issued by Attorney General Jeff Sessions. The Practice Advisory incorporates lessons learned in the year since the Matter of A-B- decision was issued. Many thanks to Dean Eyler and Amanda McAllister of the law firm Gray Plant Mooty for their significant authorship contributions and for their long-term commitment to the pro bono representation of asylum seekers.