Seeking Release from Immigration Custody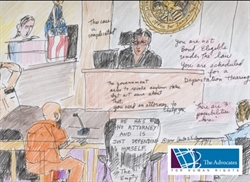 Date:
October 24, 2022
Authors:
Michele Garnett McKenzie
Document:
Seeking Release from Immigration Custody- Bond Report - Final.pdf (PDF 1.0 MB)
Country:
United States of America
Type:
Report
Issues:
Court Monitoring
,
Detention
,
Migrant Rights
This report presents data from observed bond hearings at the Fort Snelling Immigration Court between March 1, 2020, and September 30, 2021. Some comparison data from prior stakeholder reports are also included. This document is not intended to be a comprehensive report about bond, its legal basis, and legal challenges, nor a comparison among courts. Instead, this report is a window into bond hearings at this court during a time when we experienced both a pandemic and a change of administration in the White House. The pandemic saw a shift from in-person to remote hearings, a decrease in ICE arrests, and an increase in humanitarian parole in an effort to address COVID risks in detention. Upon taking office in 2021, the Biden administration enacted new ICE enforcement guidelines that prioritized removal of noncitizens who were deemed to pose a national security risk or a danger to public safety, or who had recently entered the United States.

These shifts in ICE enforcement were evidenced in bond hearings. A far greater proportion of respondents (noncitizens in removal proceedings) had criminal records or pending charges; indeed, noncitizens without criminal records were far less likely to be detained than they had been in the few years prior to the pandemic. We observed fewer bond hearings in general over this period of time, likely a reflection of decreased detention numbers and fewer of the respondents in detention being bond-eligible.

This report examines multiple issues pertaining to bond hearings, including the impact of legal representation and criminal history on bond outcomes, rates of appeal, variations among judges, and the increase of bond amounts over time. This report will be of particular interest to observers, advocates, and immigration attorneys who provide detained removal defense.