Immigration Court Observation Project Issue Brief: Unaccompanied Children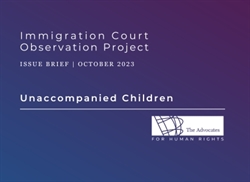 Date:
October 4, 2023
Document:
AHR Issue Brief - Unaccompanied Children in Immigration Court.pdf (PDF 359.1 KB)
Country:
United States of America
Type:
Report
Issues:
Asylum
,
Children's Rights
,
Due Process and Fair Trial
,
Legal Representation
,
Migrant Rights
Despite thousands of children appearing in immigration courts each year, immigration law and immigration courts treat children like adults. Like adults, children in removal proceedings have the right to legal representation at no expense to the government. If a child cannot find an attorney, they must navigate a complex, adversarial process on their own. The law and the courts provide no safeguards to ensure children's rights are protected. This is outrageous.
The current system fails to ensure due process for unaccompanied children in removal proceedings. It leaves judges to adjudicate high-stakes cases, replete with trauma, for children who cannot be held legally responsible for their actions in any other setting. Tragically, it results in harm to the thousands of unaccompanied children who have turned to the United States for safety. Reform is needed, and absent that reform, every effort must be made to mitigate these failures. Immigration judges, court staff, and other federal agencies have a duty to ensure children can access justice in the immigration legal system.