Celebrating Human Rights at a House Party in the Park
October 4, 2021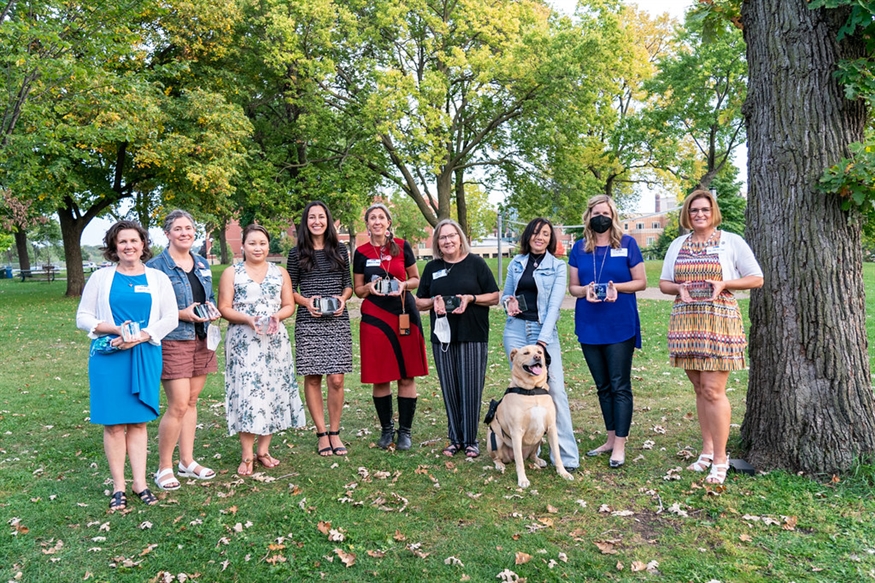 On Wednesday, September 29, The Advocates for Human Rights gathered for the House Party in the Park to celebrate the victories won by working together. We raised critical funds to advance human rights and help Afghan evacuees. Photos of the event are available on Flickr.

We celebrated the passage of a new law in Minnesota to protect survivors of sexual assault. Members of the Steering Committee of the Criminal Sexual Conduct Statutory Reform Working Group and two representatives, Rep. Kelly Moller and Rep. Marion O'Neill, received the 2021 Gold WATCH Award. Their persistence was instrumental in this victory for victims of sexual assault.
We celebrated in person with Olga Baranova of the Moscow Community Center for LGBT+ Initiatives (MCC), the recipients of the 2020 Special Recognition Award. She shared original art created by members of the center, which inspired lively conversations about the threats faced by members of the LGBTQ+ community in Eastern Europe and the collaboration between The Advocates and MCC across borders.
Looking forward, Deputy Director Michele Garnett McKenzie shared that up to 2,000 Afghan evacuees have begun resettling in Minnesota. They will need The Advocates' help to obtain permanent legal status in the U.S. before their humanitarian visas expire. We must fight for a just immigration system, and we must help individual migrants find safety.
The path is long, complicated, and always shifting. Our $50,000 match is still active. If you haven't made a donation yet, please give today to double your impact and support this life-changing work.
Next up: The Advocates' fall 2021 virtual events series starts this week. Join us for inspiring, informative events on a variety of topics - from the legacy of Ruth Bader Ginsburg, to court observation, to pandemic challenges in Nepal, and much more. Learn more and RSVP here.
The Advocates for Human Rights is a nonprofit organization dedicated to implementing international human rights standards to promote civil society and reinforce the rule of law.
Curious about volunteering? Please reach out. The Advocates for Human Rights has an opportunity for you.
Eager to see change? Give to our mission, our vision, our work. Your gift matters.