There's no #Pride in America's Immigration System
June 8, 2022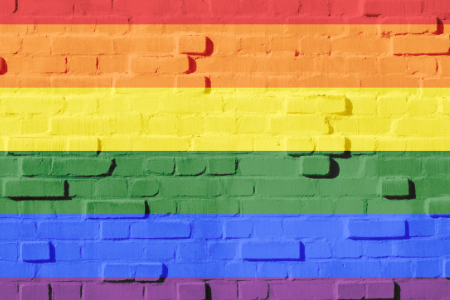 June is Lesbian, Gay, Bisexual, Transgender, and Queer (LGBTQI+)[1] Pride Month. LGBTQI+ activists and allies have long fought for the interests of our queer neighbors. This month was chosen to commemorate the Stonewall Riots of 1969 but has grown both locally and internationally into a month dedicated to celebrating queer communities while also remembering those we have lost to hate crimes, suicide, and HIV/AIDS.

Queer asylum seekers, however, might not see an America filled with pride for them, much less community, picnics, and parades. Immigration policies affect many of our queer neighbors. There are nearly 1.3 million foreign-born LGBTQI+ adults in the U.S. and over 6,000 LGBTQI+ people apply for asylum each year.

Our Borders and Anti-immigrant Policies Do Not Keep Queer Migrants Safe

Queer asylum seekers often experience anti-LGBTQI+ sentiment, harm, or persecution both in their home country and in the U.S.

According to a March 2021 report by The Williams Institute at the UCLA School of Law, 69 countries still criminalized consensual sexual conduct between adults of the same sex. If convicted of this "crime," an asylum seeker could receive the death penalty in 11 of these countries.

Even where queer sex is not criminalized, Human Rights Watch reports that LGBTQI+ migrants face death threats, arbitrary detention, and harassment by gangs and other anti-LGBTQI+ individuals or groups in their home countries. After asylum seekers make the incredibly hard decision to flee their home country and make it to the U.S.-Mexico border, the Department of Homeland Security is still returning LGBTQI+ asylum seekers to Mexico via policies like the Migrant Protection Protocols ("Remain in Mexico") and Title 42. While awaiting the opportunity to make an asylum claim, LGBTQI+ migrants are systematically targeted for violence such as kidnapping, extortion, and rape by both government officials and criminals.
Sandibel Borges, an assistant professor of Women's and Gender Studies at Loyola Marymount University, has looked at the lived experiences of LGBTQ Latinx migrants in Los Angeles, California and LGBTQI+ returning migrants in Mexico City. Their work illuminates how heteronormativity, white supremacy, exploitation, and surveillance are embedded in the immigration system. (You can hear more about Prof. Borges' work at our July 1 Coffee & Case discussion. Click here for details and registration information.)
Further implicating the U.S., at least some of the anti-LGBTQI+ activism globally can be traced to Christian right organizations in the U.S. who choose to focus on countries abroad where they can push to criminalize LGBTIQ+ identities. (See Katherine Browne & Catherine J. Nash, Resisting LGBT Rights Where 'We Have Won': Canada and Great Britain, 13 J. Hum. Rts. 322 (2014)). The Advocates recently documented the toxic impact of the powerful, transnational anti-gender movement in our report, A Rollback for Human Rights: The Istanbul Convention Under Attack. (Learn more about the strategies of the ultra-conservative anti-gender movement from Neil Datta, European Parliamentary Forum for Sexual and Reproductive Rights, who will receive the 2022 Don & Arvonne Fraser Human Rights Award and deliver the keynote address at The Advocates' June 22 Human Rights Awards Dinner).
A Journey without Rainbows
Recent expansion of queer rights has been deemed a marker of Western progress. (See Momin Rahman, Queer Rights and the Triangulation of Western Exceptionalism, 13 J. Hum. Rts. 274 (2014)). The U.S. recognizes the rights of LGBTQI+ asylum seekers to request protection from countries, governments, or individuals who seek to harm them on the basis of their sexual orientation. This recognition carries the implication that the U.S. is a place of safety for queer migrants. While this progress towards protection of LGBTQI+ populations is incredibly significant, we have not created safe spaces for many queer migrants to survive safely-much less to thrive.

Unfortunately, the LGBTQI+ movement in the U.S. is too often focused on the experiences of cisgender[2] white gay men. This means that the issues and struggles of queer people of color, queer women, and trans/non-binary people are frequently overlooked. (See generally The Making and Unmaking of Whiteness (Birgit Brander Rasmussen et al. eds., 2001)). As an immigration attorney, I have found the same to be true in our immigration system. Every year, the U.S. receives over 6,000 applications for asylum from LGBTQI+ people. The LGBTQI+ issues these migrants face are largely distinct from the issues cisgender white gay men in the U.S. face. Often, our immigration system mistakes acceptance of Western Gay and Lesbian identities for accepting the identities of our foreign-born queer neighbors.
As an example, we can look at access to resources. While many safety nets for asylum seekers are organized by churches, some churches are unsafe spaces for queer migrants. If they are even accepted, many queer migrants report discriminatory treatment by these supposed "places of refuge". (Sandibel Borges,"We Have to Do a Lot of Healing": LGBTQ Migrant Latinas Resisting and Healing from Systemic Violence, 24 J. Lesbian. Stud. 94 (2020)). As Borges observes, our understanding of LGBTQI+ identities often limits and overshadows the experiences of queer migrants of color and migrants whose gender identities are more fluid than Western culture is accustomed to. If you wish to learn more about the experiences of Female and Non-Binary Identifying Queer Migrants, check out these two roundtable discussions on the topic.
The Advocates for Human Rights works with many LGBTQI+ migrants as they seek asylum in the U.S. and navigate finding safe spaces to connect to resources and community. Part of celebrating Pride Month is supporting queer individuals doing this work or existing and resisting in spaces that do not honor queer identities. Here's some ideas:
· If you are a lawyer, please consider becoming a volunteer attorney to assist an LGBTQI+ migrant through their immigration case.

· If you are an artist, consider becoming an artist mentor for LGBTQI+ clients.

· If you speak a language that is not English, consider volunteering as an interpreter or translator.

· If you are available during court operating hours, get involved with our Immigration Court Observation Project.
And please join us at our July 1 Coffee & Case Discussion to hear Dr. Sandibel Borges on the topic of LGBTQI+ asylum seekers and at our June 22 Human Rights Awards Dinner to hear from Neil Datta about the ultra-conservative anti-gender driven backlash to human rights.
Staff attorneys Kim Boche and Nathan Madson and interns Hannah Blythe and Ava Kelley, one of our 2022 Volunteer Award recipients, collaborated as authors of this blog.
---
[1] This post will use queer and the umbrella acronym LGBTIQ+ interchangeably but there are more inclusive acronyms such as LGBTQIA2S+ which explicitly includes Lesbian, Gay, Bisexual, Transgender, Queer/Questioning, Intersex, Asexual/Aromantic/Agender/Ally, Two-Spirit, and "+" for other marginalized sexual and gender identities.
[2] Cisgender refers to people whose gender identity is affirmed by the sex they were assigned at birth.