Return to summary
Implementation of Montenegro's Domestic Violence Legislation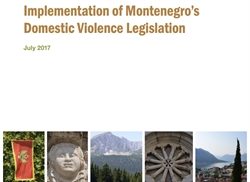 Date:
July 3, 2017
Document:
complete_montenegro_report.pdf (PDF 2.6 MB)
Country:
Montenegro
Type:
Report
Issues:
Accountability 
,
Bias and Discrimination
,
Gender-Based Violence
,
International Advocacy
,
Women's Rights
The LDVP is Montenegro's first domestic violence protection law since it declared independence from Serbia in 2006. The LDVP is an important step toward meeting its international human rights obligations.The Advocates for Human Rights, SOS Hotline for Women and Children Victims of Violence –Niksic, and Women's Rights Center carried out fact-finding to monitor and document the Montenegrin government's implementation of domestic violence legislation. The authors carried out a monitoring mission in July 2015, during which they visited 6 cities and conducted 60 interviews with government officials, police, judges, prosecutors, health care workers, CSWs, mediators, and non-governmental organizations (NGOs), and conducted follow-up interviews in 2016 and 2017. The findings and recommendations presented in this report represent the results of these interviews, the authors' observations, and secondary research. While findings reveal some good practices and initiatives, they also reveal a lack of knowledge, harmful attitudes, and gaps in responses by all systems actors.