Discover Human Rights: A Human Rights Approach to Social Justice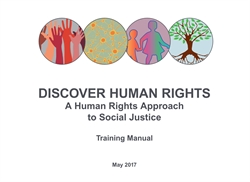 Date:
May 1, 2017
Document:
View the Document
Country:
All
Type:
Manual
Issues:
Accountability 
,
Education
,
Human Rights Defenders
,
Racial Justice
,
Technical Assistance, Capacity Building, Training
Civil society is turning to human rights to secure social, political, and economic objectives they have sought for decades. To strengthen the capacity to use human rights to combat entrenched poverty, discrimination, and injustice, The Advocates for Human Rights developed a training and accompanying manual entitled Discover Human Rights: A Human Rights Approach to Social Justice.
This manual, intended for social justice advocates, provides concrete steps for integrating international human rights principles into their work. The manual helps advocates:
Frame issues in terms of international human rights standards; and
Identify human rights-based strategies to use.
Social justice organizations, community service groups, human rights advocates, and other members of civil society benefit from following a human rights approach. It helps:
Ensure increased participatory and sustainable solutions to social justice issues;
Provide common standards against which to measure domestic policies;
Reframe social justice issues as human rights violations;
Expand the circle of allies to the larger global human rights community; and
Enhance accountability beyond the domestic justice or political systems.
To learn more about the accompanying 12-hour training, click here.