Return to summary
A House with Two Rooms: Final Report of the Truth and Reconciliation Commission of Liberia Diaspora Project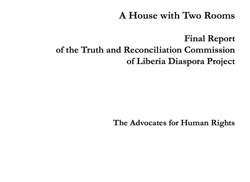 Date:
January 1, 2009
Documents:
A House with Two Rooms - full download (PDF 17.2 MB)
Front Matter (PDF 169.6 KB)
Table of Contents (PDF 162.4 KB)
Acknowledgments (PDF 141.8 KB)
Preface (PDF 134.4 KB)
Table of Acronyms (PDF 132.4 KB)
Chapter 1: Executive Summary (PDF 1.8 MB)
Chapter 2: Priority Recommendations (PDF 800.3 KB)
Chapter 3: Diaspora Project Overview and Methods (PDF 1.1 MB)
Chapter 4: Background on Liberia and the Conflict (PDF 2.1 MB)
Chapter 5: Human Rights Abuses During the Rice Riots and Doe Era (PDF 914.1 KB)
Chapter 6: Tactics and Fighting Factions During the Liberian Civil War (PDF 778.7 KB)
Chapter 7: Liberia (PDF 1.6 MB)
Chapter 8: Liberia (PDF 867.3 KB)
Chapter 9: Child Soldiers (PDF 924.1 KB)
Chapter 10: Women (PDF 1.7 MB)
Chapter 11: Complicating Factors (PDF 1.4 MB)
Chapter 12: Role of the United States (PDF 839.3 KB)
Chapter 13: Experiences of the Liberian Diaspora (PDF 3.6 MB)
Chapter 14: Recommendations Submitted to the TRC of Liberia (PDF 1.1 MB)
Photo Legend (PDF 159.0 KB)
Appendices (PDF 1.8 MB)
Country:
Liberia
Type:
Report
Issues:
Diaspora Engagement
,
International Advocacy
,
Transitional Justice
A House with Two Rooms documents the experience of human rights abuses and violations of international humanitarian law that forced Liberians to leave the country. It is based on an analysis of more than 1,600 statements, fact-finding interviews, and witness testimony at public hearings held in the U.S. The report also tells the story of the "triple trauma" experienced by members of the diaspora during their flight through Liberia and across international borders, while living in refugee camps in West Africa, and in resettlement in the U.S. and U.K. In addition, the report summarizes the views of Liberians in the diaspora on the root causes of the conflict and their recommendations for systemic reform and reconciliation. ISBN: 978-1449508876
Cost to order: $25.99; to order from Amazon and receive free shipping, click here.